4Ward Development is a well-established safe water enterprise (SWE) with business subsidiaries in Ghana and Uganda that provide safe water services at District Wide Scale. Our goal is to exceed the expectations of rural customers by delivering a guaranteed supply of high-quality water on a continuous basis.  4Ward Development was launched by Access Development, an enterprise with a decade of experience providing safe water to 600,000+ people through 2,000 water points across Africa. During this time, Access Development pioneered an innovative water system, NUMA, backed by our non-profit partner and owner, Water4. Access Development, and thus 4Ward Development West and East Africa, are wholly owned for-profit Subsidiaries of Water4, Inc.
The 4WardWA suite of water solutions is designed to provide safe water tailored to consumer demand, including: hand-pumps with professional management, public retail points, and private water connections for households, schools, clinics, and businesses.
4WardWA has current operations in the Wassa East district, Western region, Ghana, where we have provided the entire district with access to safe water and adjourning communities in the Komenda, Edna-Eguafo-Abrem (KEEA) Municipal. This is in partnership with Water4, The Dutch Government (RVO), Hilton Foundation, Wassa East District Assembly, and many other partners. 4WardWA is scaling up its operations in Upper West and Savanna Regions in 2022 in partnership Water4, Helmsley Trust Foundation and Global Communities, with more partners to come as part of our strategy to provide three districts in these regions with safe water services.
Job Description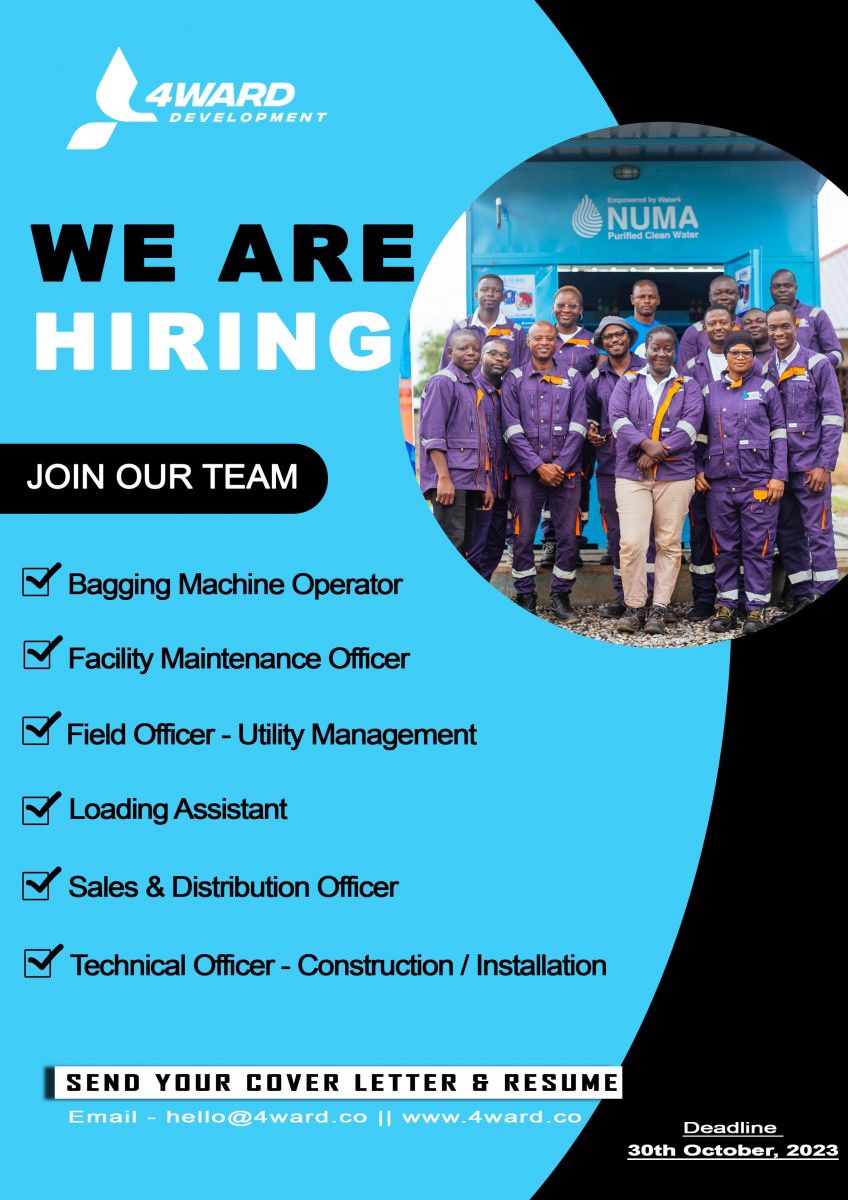 Reporting: The Loading Assistant will report to and work closely with the Facility Maintenance Officer (FMO).
POSITION SUMMARY
The Loading Assistant is required to carry bagged water into the warehouse, load, and offload bagged sachet water into truck(s) for distribution under the Facility Maintenance Officer's (FMO) supervision. The ideal candidate must have experience in carrying materials and equipment with machines or manually. We are looking for hardworking individuals to implement approved standards of loading and offloading for our bagged sachet water. You will work with a team of bagging machine operators and truck drivers following instructions from your supervisor (FMO) and staying on-task with every assignment.
RESPONSIBILITIES
Adhere to all safety measures when loading and offloading bagged sachet water into truck(s).
Arrange bagged sachets water well to avoid damages in the warehouse.
Offload bagged sachet water from distribution trucks to wholesalers and retailers.
Help organize and ensure bagged waters are properly maintained and managed in the warehouse.
Prompt and inform the supervisor of damaged bagged water.
Report any breakages that occur during the loading and offloading process.
Assist with packing packaged water when required.
Any other duties assigned or support needed by the supervisor.
KEY EXPECTED RESULTS 
Timely completion of tasks with minimal supervision.
Able to stand for extended periods of time.
Available to resume work very early in the mornings and plus weekends, as needed.
Required Skills or Experience
Education
Minimum qualification of West African Senior School Certification (WASSCE) or SSCE.
Experience
No prior experience is required. However, any experience in loading packaged products is an advantage.
WORKING CONDITIONS
Physical Demands
Standing, and/or walking for up to 8 hours per day in an area with moderate noise and temperature levels.
Preferred Skills
Excellent organizational skills.
Ability to lift heavy materials and equipment.
Attention to detail.
Ability to follow instructions.
Time-management skills.
Physical stamina
Demonstrate a positive and friendly attitude.
Display excellent interpersonal communication skills.
Travel Requirements 
How To Apply
Please send cover letter, resume, references and salary requirements to: hello@4ward.co by the close of business on 30th October, 2023. Only shortlisted candidates will be contacted.
Please include the job location (Wa, Ghana) and Job title( Loading assistant) in your e-mail subject.
OR Apply here: https://lnkd.in/e-7rj-kN
Additional Notes
***Equivalent education, training and/or certification may be substituted for experience and education shown above ***Equivalent education, training and/or certification may be substituted for experience and education shown above ***